Rallycross-VM i Portugal följer du » Här på Motorsportivarmland.nu
Rallycross-VM i England följer du » Här på Motorsportivarmland.nu
Rallycross-VM i Finland följer du » Här på Motorsportivarmland.nu
---
18-01-22 Stars from IndyCar, World Rallycross and GRC headline glittering RallyX on Ice entry list
•IndyCar heroes Newgarden and Castroneves confirmed for ice racing spectacle
•Five World RX and two GRC drivers form part of impressively high-calibre entry
•Bumper grids revealed as excitement builds for Scandinavian winter warm-up
Leading lights from the Verizon IndyCar Series, FIA World Rallycross Championship presented by Monster Energy and Red Bull Global Rallycross will be Scandinavia-bound over the course of the next six weeks, to battle it out for glory in RallyX on Ice.

RallyX on Ice is 2018's unmissable winter warm-up ahead of the main motorsport season, with three classes all counting capacity grids – clear evidence of the level of hype and excitement surrounding the eagerly-anticipated rallycross series.

The competitor list features superstars from the pinnacle of both US open-wheel racing and international rallycross competition, who will test their mettle against the crème de la crème of homegrown heroes across four snow-blanketed showdowns – two in Sweden followed by a further two in Norway.

Reigning INDYCAR Champion Josef Newgarden and three-time Indianapolis 500 winner Hélio Castroneves top the star-studded entry. The pair, who compete for legendary motorsport organisation Team Penske in INDYCAR and IMSA respectively, will each contest a single round of the headlining Supercar Lites class for identical 310bhp, four-wheel-drive machinery – the American at Ål in Norway and his Brazilian stablemate in the series finale at new-built Norwegian track Gol.

"I'm really excited and anxious to participate in the RallyX on Ice series," revealed Newgarden. "I've had the opportunity to drive a lot of different types of race car on a lot of different types of track all around the world, but I've never done anything quite like this.

"I've been able to see some videos and pictures and it looks like a lot of fun, but also quite challenging. It will help to bring out our pure driving skills, for sure. I look forward to the challenge and hope I can represent Team Penske and IndyCar well."

"When the opportunity was presented to me to race a rallycross car on ice, I jumped at it," added Castroneves. "I've never raced a rallycross car like this and I've never raced on ice, so it will be a learning experience for me.

"It blows me away to think about racing a car with spikes in the tyres. I'm looking forward to just taking it all in and going out there and doing the best I can. I can honestly say this will help me to complete my motorsport résumé one day."

Versatile upcoming American ace Austin Cindric will climb into the cockpit for the opening two rounds at Östersund and Höljes in Sweden in early February, while the US contingent will be swelled by the presence of rallycross regulars Cole Keatts and Conner Martell. All of them are revving up to go doorhandle-to-doorhandle with some of the biggest names in the discipline.

FIA World Rallycross Championship Supercar star Kevin Eriksson, 2017 RX2 International Series presented by Cooper Tires Champion Cyril Raymond, former FIA European Rallycross Champion Robin Larsson and 2015 GRC Lites Champion Oliver Eriksson are all due to tackle all four events. They will surely provide the very sternest of tests for the high-profile 'visitors' – as will the raft of local specialists in the 23-strong field, composed of no fewer than eight different nationalities.

"It's fantastic to be racing in RallyX on Ice as well as being back in Supercar Lites, where I got my breakthrough a couple of years ago," reflected Kevin Eriksson. "It's a very competitive series and will be a great start to my year, getting up-to-speed and back into race mode before World RX begins. I'm looking forward to the challenge and hope to make the most of it."

The supporting Speedcar Xtreme series – for potent, 180km/h crosskarts – boasts a similarly eye-catching line-up, with 15 entries, three of whom are regular FIA World RX Supercar protagonists. Team Peugeot-Hansen team-mates Timmy and Kevin Hansen and Niclas Grönholm – son of FIA World Rally Championship legend Marcus Grönholm – will pit themselves against a whole crop of promising young guns all eyeing a future at the sport's highest level.

"I'm really looking forward to racing the Speedcar Xtreme crosskart on ice!" said Timmy Hansen. "It's an awesome piece of kit and I hope to have a lot of fun in it. There will be plenty of talented young guys out there, so I'm looking forward to the challenge!"

Indeed, the benchmark for Hansen and co. will be teenage prodigy Linus Östlund, who is the reigning Swedish Champion in the class – giving all of his adversaries a target to aim at.

Fellow support series the RX Academy on Ice will reveal its own entry list in due course, with drivers from at least five different countries set to take to the wheel of identical, factory-built Renault Clio RS RX cars, run by multiple European Rallycross Champions SET Promotion.

The RX Academy was established in 2017 to give aspiring world champions of the future a professional platform to begin their careers, and the winter series has been devised to allow drivers to gain valuable experience in preparation for the main summer rallycross season.

"To be able to unveil not only such healthy grids but also such an impressive depth of quality throughout the field for RallyX on Ice's inaugural campaign is extremely satisfying, and underscores just how much this exciting new initiative has captured the imagination," enthused Olsbergs MSE CEO Andreas Eriksson, the man behind the RallyX on Ice concept.

"Josef and Hélio need no introduction – they are both world-class drivers with first-rate résumés – while Austin is one of American motorsport's fastest-rising young prospects and we are eager to see what they can all achieve in a rallycross car on ice. We are also immensely grateful to Team Penske for supporting their desire to compete.

"They will be up against some of the finest rallycross drivers of the current generation, and to have five full-time World RX Supercar stars and a couple more from GRC across the three classes makes for a quite phenomenal line-up. It might be cold in Sweden and Norway at this time of year, but I can guarantee the action on-track will be red-hot!"

2018 RallyX on Ice Calendar
February 3 Östersund, Sweden
February 10 Höljes, Sweden
February 25 Ål, Norway
March 3 Gol, Norway

Supercar Lites Entry List
DRIVER NATIONALITY CAR NUMBER EVENT(S)
Josef NEWGARDEN USA 2 ÅL
Hélio CASTRONEVES BRA 3 GOL
Robin LARSSON SWE 4 ALL
Mats OSKARSSON SWE 11 ALL
Anders MICHALAK SWE 12 ÖST, HÖL
Cyril RAYMOND FRA 13 ALL
Oliver ERIKSSON SWE 16 ALL
Hampus RÅDSTRÖM SWE 17 ALL
Ben-Philip GUNDERSEN NOR 20 ALL
Conner MARTELL USA 21 ALL
Austin CINDRIC USA 22 ÖST, HÖL
Pelle WILÉN SWE 23 ALL
Petter LEIRHOL NOR 27 ALL
Alexander WESTLUND SWE 47 ALL
Cole KEATTS USA 53 ALL
Vasiliy GRYAZIN LVA 55 ALL
Jami KALLIOMÄKI FIN 65 ALL
Sondre EVJEN NOR 69 ALL
Alexander LIE NOR 85 ALL
Troy DOWEL AUS 87 ALL
Jimmie WALFRIDSSON SWE 90 ALL
Jonathan WALFRIDSSON SWE 91 ALL
Kevin ERIKSSON SWE 96 ALL

Speedcar Xtreme Entry List
DRIVER NATIONALITY CAR NUMBER
Aleksander WIIK NOR 1
Isac EGONSSON SWE 5
Jimmie ÖSTERBERG SWE 11
Linus ÖSTLUND SWE 12
Nils ANDERSSON SWE 14
Timmy HANSEN SWE 21
Micke GÖTHESSON SWE 34
Finn Erik LØBERG NOR 35
Arne WIIK NOR 55
Niclas GRÖNHOLM FIN 68
Kevin HANSEN SWE 71
Ruve VESKI EST 88
Ole Henry STEINSHOLT NOR 89
Jonathan ESKILSSON SWE 90
Peter LUNDMARK SWE 92
---
18-01-21 William Nilsson Årets Junior – vann folkets röster i Bilsport Award 2017
Under säsongen segrade rallycrossföraren William Nilsson i RallyX Nordic och blev svensk mästare i klassen Supercar Lites. I går utseddes han till Årets Junior.
– Det här känns riktigt, riktigt grymt, säger den 18-årige Tomelillapågen.
Under vintern utsedde en jury William Nilsson till Årets Rallycrossjunior. Sedan var det upp till det svenska folket att, bland de fem kategorierna, rösta fram en motorsportare till Årets Junior. Under prisceremonin berättade de att det varit en jämn tävling, men att en person dragit iväg senaste dagarna. Den personen var skånske William Nilsson.
– Jag trodde faktiskt inte att det skulle räcka hela vägen. Det här känns riktigt, riktigt grymt! Jag har varit på Bilsportgalan i många år nu och sett upp till de tidigare pristagarna. Nu har jag själv kommit så långt att jag fått det här priset. Det känns fantastiskt, säger Nilsson.
William Nilsson är den andra rallycrossföraren någonsin som utses till Årets Junior.
– Just att det är svenska folket som röstat känns stort. Det innebär att de tycker jag är värd utmärkelsen och jag är verkligen så tacksam över det. Jag vill också passa på att tacka alla som hjälpt mig under åren, allt från team och sponsorer till vänner och familj. Utan er hade inte mina prestationer varit möjliga från första början. Och tack ännu en gång alla som röstat på mig!
Priset utdelas varje år av tidningen Bilsport och vinnarna presenterades under Bilsportgalan 2018, som anordnas av Svenska Bilsportförbundet. Utmärkelsen Årets Senior gick till rallyföraren Pontus Tidemand och hans co-driver Jonas Andersson. Mer info om Bilsport Award finns här!
---
18-01-14 William Nilsson laddar upp inför säsongen – med landslagsläger på Gran Canaria
Rallycrossföraren William Nilsson laddar upp inför 2018 års säsong tillsammans med landslaget.
– Det har verkligen varit guld värt, säger Tomelillapågen.
I höstas segrade skånske William Nilsson i både RallyX Nordic och det svenska mästerskapet i Supercar Lites. Snart är det dags för en ny säsong och för att hålla igång under uppehållet åkte Nilsson på ett träningsläger med svenska landslaget. Det var 10-14 januari som han, tillsammans med 12 andra förare, befann sig på Gran Canaria för ett par intensiva träningsdagar. På schemat var det löpturer, styrkepass och en fyra mil lång mountainbiketur i bergen. Det har även blivit flera timmar i olika fordon på banan Circuit Maspalomas. Körningen skedde i högerstyrda Mazda MX-5 samt Polo Cup-bilar.
– Eftersom det är riktiga racingbilar har vi kunnat gasa på samma sätt som i våra egna tävlingsbilar. I vanliga fall har man sin egen körstil som man testar utifrån. Men eftersom vi är så många förare, med olika sätt att köra, har vi lärt varandra nya körstilar. Det har verkligen varit guld värt, konstaterar Nilsson.
Han fortsätter:
– Hela upplägget har varit väldigt bra, dels eftersom vi alltid är två förare i bilen. Vi kommer från helt olika motorsporter och har därför kunnat diskutera med varandra att man kan köra riktigt snabbt på flera olika sätt. Sånt är givande och mycket av det tar jag med mig till banan.
Landslagsförarna återvänder på söndagen till Stockholm för att på måndagen närvara under SBFs presskonferens där årets landslagsförare presenteras. Därefter beger sig gänget till Idrottsgalan.
– Det blir ett roligt avslut på en skitkul helg helt enkelt.
---
18-01-11 Mark Higgins confirmed for Albatec with NCME rallycross programme
Albatec Racing has confirmed triple British Rally Champion Mark Higgins for at least the opening two rounds of the 2018 Toyo Tires MSA British Rallycross Championship in the Albatec with NCME Peugeot 208 RX Supercar.
Albatec and the National Centre for Motorsport Engineering (NCME) have announced a collaborative partnership that aims to provide career development opportunities for the next generation of motorsport engineers. The collaboration will see NCME and Albatec work together in partnership to provide an unrivalled experience for students studying Motorsport and Automotive Performance Engineering at the University of Bolton, both in class and on-event.
Higgins will work with the students from NCME and the Albatec team when he makes his rallycross debut in the opening round of British RX at Silverstone on 17 March. The Manxman, who now lives in Powys, Wales has plenty of supercar experience under his belt; he's the fastest man on four wheels around the iconic Isle of Man TT Mountain Course and the stunt driver for Daniel Craig's last three James Bond films, among others.
In March, he swaps 007's Aston Martin DB10 for Albatec's 600bhp turbocharged Peugeot 208 RX Supercar for testing ahead of the season opener in Northamptonshire, and will also compete in round two at the spiritual home of rallycross, Lydden Hill, Kent, in April. No stranger to rallycross, Higgins has already driven an RX150 buggy taking victory in the B Final at Pembrey back in 2009, and is relishing the prospect of making his Supercar debut in British RX while plans are afoot to extend that to Silverstone's FIA World Rallycross Championship round in May.
Andy Scott, Team Principal Albatec Racing:
"We're excited to have Mark join our programme. Albatec has a reputation for running high-calibre drivers, both on events and in testing, and it's always an absolute pleasure working with such professional drivers. Mark comes with a fantastic pedigree of three British rally titles and numerous China Rally victories under his belt, so there is no doubt about his ability and speed. But, as Petter (Solberg) and Sebastien (Loeb) can verify, adapting from rally to rallycross can take some time, so we need to get him up to speed on the intricacies of the Peugeot 208 RX Supercar and the sport.
"It's particularly good to bring him into the British Rallycross Championship which is steadily increasing in stature, in parallel with the FIA and European World Rallycross Championships. Having Mark on board will help his path of development in rallycross and will lift the profile of BRX further. We have managed to secure the budget for Mark to contest the opening two rounds of British RX, and are currently working hard to ensure he can complete the entire season. We are also working towards securing the budget for him to compete at the UK's only round of World RX, SpeedMachine at Silverstone on 26 & 27 May."
Dr. Mark Busfield, Director, National Centre for Motorsport Engineering:
"I'm really excited with this opportunity to include Mark as our driver for this wonderful programme. Mark brings a wealth of experience and his proven expertise gives us a great opportunity in the British Rallycross Championship.
"I last worked with Mark in the year 2000 when he was our lead driver in the Vauxhall Rally project that I was Project Manager for; starting this relationship again rekindles some excellent memories, and I see Mark as focused now as he was back then. Mark will also add valuable technical input to the car development helping Andy in his FIA European Rallycross programme."
Mark Higgins, Albatec Racing driver:
"This is a really great opportunity and one that I'm very excited about. I'd been talking to Andy and Albatec for a while about having a test but our diaries kept clashing. They're a great team, probably the premier team in the UK with a proven, successful car and at this stage in my life I've learnt there's only one way to do something, and that's properly. The personnel involved with the project, like Andy Scott and Mark Busfield means we start from a strong position but I'm also excited about helping to develop the car not just for the British series but European and World Championships too.
"Having the NCME at University of Bolton on board is great, the entire project just seemed to tick all the right boxes. It's a very exciting programme from every aspect and one that we can really get our teeth into. I've spent a lot of time testing cars for manufacturers, and working with the students to develop the Peugeot is one of the elements I'm looking forward to the most. The car is already at a very good level, so working with the students will be really exciting to see if we can get the march on the other teams. I've really missed rallying in Britain, so I'm very pleased to be competing in the UK again in an environment where hopefully a lot of people can support us. The competition is fierce in British RX, they go in pretty hard, and I'm not going into it too confidently, but I'm certainly not going there just to make up the numbers."
---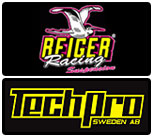 << Till startsidan